Phones for Homes
Recycle your phone to reduce homelessness and electronic waste
Mobile Monster is proud to partner with Head Start Homes to help reduce homelessness and electronic waste by recycling old phones and other devices.
Head Start Homes is a not for profit Community Services Organisation committed to their vision of a safe and stable home for every Australian family. They primarily help hard-working mums living in community housing purchase their own home without the need for a deposit and mortgage insurance. The newly vacated community housing home then becomes available for another family likely to be homeless.
Our sustainable solution also neutralises the damaging effects of electronic waste ending up in our environment because when you recycle your old device we find it a new home instead of ending up in landfill.
Our "Phones for Homes" initiative lets you recycle your old phone with 100% of the proceeds going directly to Head Start Homes so they can help more Australian families have a safe and stable home.
So why not recycle your own phone today and feel good knowing that you're making a difference by reducing homelessness and electronic waste?
How can I Recycle my old phone?
Recycling your phone with Mobile Monster can be done in a matter of minutes:
Simply head over to this page and follow our guided instructions and complete steps 1 to 4.

On Step 4 (the payments page as shown in the graphic below):

1. Click the 'Cheque' button

2. Then write "Head Start Homes"

3. Then click continue.

We will then send you a reply paid Australia Post mail bag to safely post your device to us free of charge.

Upon receiving your device, we will review it against the description you entered and inform you of the final value.

Once your device has been processed, 100% of the proceeds will go directly to Head Start Homes so they can help more Australian families in need into safe and stable homes
*Please note: Currently Head Start Homes can only accept donations if you are a NSW, Victorian, ACT or NT resident. If you live in another State, please make a pledge instead. Head Start Homes' charitable fundraising numbers are: NSW: CFN/25022; VIC: FR-000015280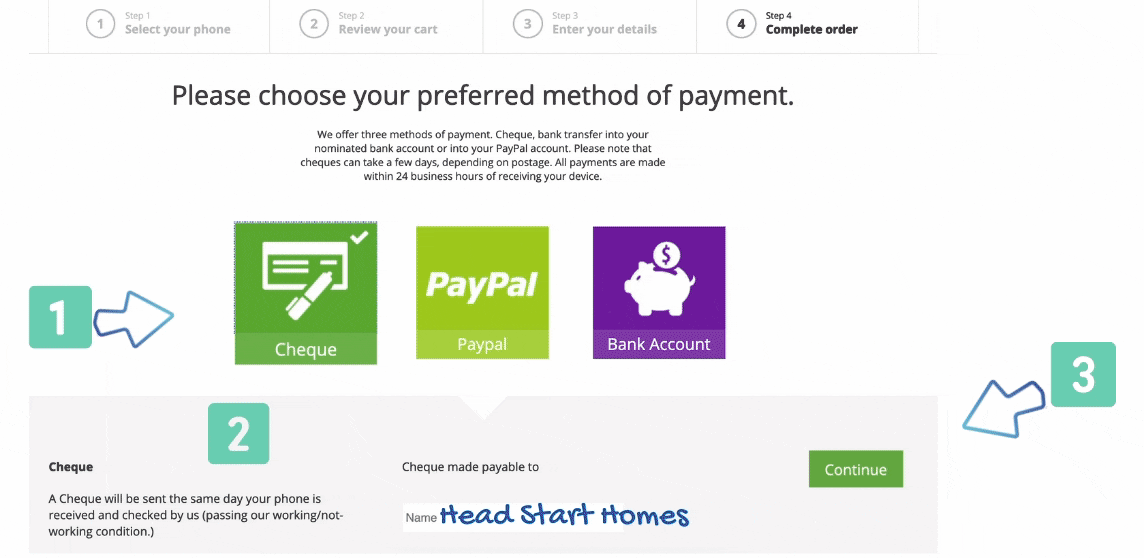 Recycle at your workplace
If you think your workplace would like to be part of our Phones for Homes initiative and recycle to help reduce homelessness and electronic waste please send us an enquiry containing the breakdown of the devices and kindly indicate that you would like to donate to Head Start Homes, our staff will be happy to assist you. To read more about our Bulk Corporate Sales process, click here.